Wapsi Square Wiki is a community site that anyone can contribute to. Discover, share and add your knowledge!
Trending articles
Popular categories
View full main page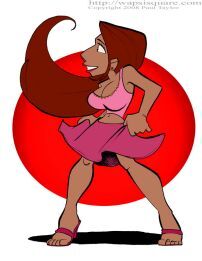 Wapsi Square, a webcomic by Paul Taylor
Wapsi Square is named for the fictitious neighborhood in Minneapolis where the characters live. Its protagonist is Monica Villarreal, a feisty, busty, 4'10" tall latina who has recently moved from a safe world of normalcy where all she had to question was her own inner demons, to a world of supernatural lunacy, drunken college girls who have the power to obliterate the universe, an Aztec golem named Tepoz who can make the best damned martini in the world, a psychologist demon barista, and a host of other characters, some of whom may just live downstairs from you.
The characters in Wapsi Square are familiar because they are us: people struggling each day to make the best and most of ourselves, quiet the inner voices that tell us we'll never amount to anything, make sense of the madness around us, find happiness and make a difference in the world.
"A world almost exactly like the one you want to believe you live in.[1]"
Relevant links
Print versions
There are to date six graphic novel compilations:
Wapsi Square 2001-2004 (2006)
Wapsi Square: The Timekeeper's Daughter (2008)
Wapsi Square: The Demons in My Back Pocket (2008)
Wapsi Square: In the Shadow of Doubt (2010)
Wapsi Square: Letting the Dust Settle (2011)
Wapsi Square: Visits to a Sandbar (2012)
Paul Taylor has also released the sketchbook, Wapsi Square's Monica in the Rough (2008), has an upcoming book of illustrations, Paul Taylor Illustration (2013), and regularly sells original artwork and prints on eBay.
Recent activity
In July 2011 the wapsisquare.com site (among others) was hit with a malware attack that caused many antivirus programs to report a threat; this was quickly dealt with, but for several days users were quite worried.