We're Getting Mutants in the MCU - The Loop
Play Sound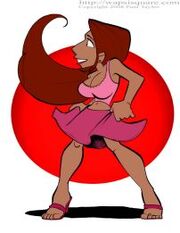 Monica Villarreal is the main character of Wapsi Square. Very intelligent if a tiny bit socially inept. Twenty-something museum curator, magic glyph reader[1][2], golem keeper, and the bearer of a truly magnificent pair of, uh, you know. Listed at 4'11" in height with reddish-brown hair.
She was originally a part-owner of an antique store with Amanda, then worked for several years at a Minneapolis museum, and has now opened another antique store[3]. She has a soft spot for antiques, coffee, '80's music, and hi-fi stereos. Died briefly as a teenager when she was nearly hit by a bus running away from her personal demon of Doubt[4], but was saved by Jin[5]. She has developed the ability to "poit" (teleport) from place to place, presumably in relation to her Glyph reading ability and her visits to the Bibliothiki. For some years she had difficulty with her personal demons; since the resolution of the calendar machine situation, not so much. Recently she has been identified as a Jaguar Girl, a development in progress.
Monica lives with her dog Dietzel in a house in the fictional Wapsi Square neighborhood of Minneapolis. Dietzel is not the intelligent talking dog of many stories; he never says a word. This does not hamper him much; he's still able to operate electronics, read books, and order out for pizza[6]. He can be quite eloquent with his gestures[7]. Nobody seems to find this very unusual.
Her first appearance was in the very first Wapsi Square strip, alongside Amanda. She was the first Wapsi Square sculpture for sale through the Patch Together website, in her trademark Magic 8-Ball T-Shirt. Monica Villarreal was given the 2009 Lulu Award for Best Female Character[8]. Obviously, she is a primary cast member[9].